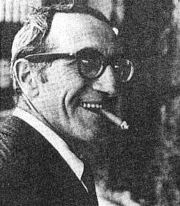 Nick West, an alias of Kin Platt, was born in 1911 and died in 2003.
Platt was also an author of two books of the Three Investigators: #14 The Mystery of the Coughing Dragon in 1970 and #16 The Mystery of the Nervous Lion in 1971.
Platt's main distinction is that he is the only author after Robert Arthur to include Blackbeard the parrot in a book, Coughing Dragon.